Jaymz is in rehab~! :(
METALLICA STATEMENT TO THE FANS (July 19, 2001)

To Our Friends:


We would like you all to know that James Hetfield has entered a rehabilitation facility to undergo treatment for alcoholism and other addictions.

James has entered an undisclosed facility, and he will continue to receive treatment until further notice. Until then, we have postponed all current activities, including recording sessions for our new album, as well as the July 29th launch party for metallica.com.

We have always thought of you all as family, and wanted you to know before this information gets out through other sources. James is working hard toward recovery, and needless to say he has our full support. We trust that you will appreciate the sensitive nature of this matter, and respect our wishes to give James the time and privacy he needs to deal with his problems.

Until then, thank you in advance for keeping James in your thoughts and prayers, and we look forward to continuing to share music with you in the future.






Get the latest news on Metallica, en the left and right are the latest subjects, I'll replace them with newer ones with time.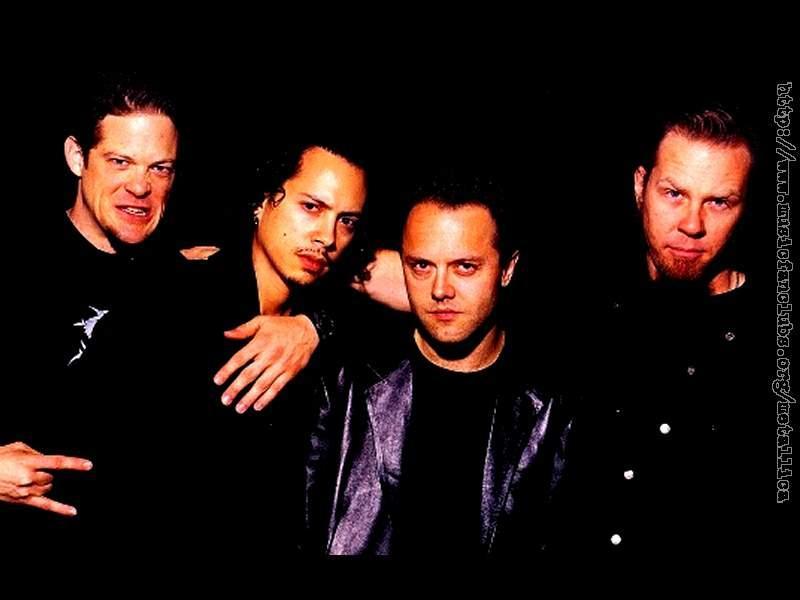 Napster and Metallica reach accord
JULY 12, 2001 PRESS RELEASE:

NAPSTER AND METALLICA REACH ACCORD

Redwood City and San Francisco, California, July 12, 2001 -- Metallica and Napster, Inc. today announced the settlement of their legal dispute. The settlement will enable the parties to work together to make Napster a positive vehicle for artists and music enthusiasts alike.

"Metallica has taken a courageous stand and a tough and principled approach to the protection of its name and creative output, and that of other artists. They brought to our attention essential artists' rights issues which we've addressed in our new technology. We respect what they've done and regret any harm which this dispute may have caused them," said Hank Barry, interim CEO of Napster. "Metallica is a band that continues to be ground-breaking and on the cutting edge. In a career that dates to 1981, Metallica has been in the forefront of creative, technological and marketing initiatives in the music and video world. It's clear that Metallica's longevity and fan loyalty have been earned by looking forward, not backward."

"We at Napster strongly believe that Napster, the Internet and file-sharing will play an increasingly important role in how fans discover, share and purchase their music," Barry added. "We understand that Metallica and, indeed, all artists, must have a voice in this evolution. We are delighted that we now have the opportunity to work with Metallica to develop a new business model that will be responsive to the artistic right to choose for which Metallica so vigorously and admirably fought."

Napster has implemented and will continue to refine filtering technology for identifying and blocking access to files that artists and other rights holders do not want to allow users to share. Pursuant to the terms of the settlement, this technology is to be consistent with the District Court's preliminary injunction and the statutory requirements of the Digital Millennium Copyright Act. This technology, a fixture of the new Napster model being developed, is available to all artists and their labels.

"I think we've resolved this in a way that works for fans, recording artists and songwriters alike," said Lars Ulrich, co-founder of Metallica. "Our beef hasn't been with the concept of sharing music; everyone knows that we've never objected to our fans trading tapes of our live concert performances. The problem we had with Napster was that they never asked us or other artists if we wanted to participate in their business. We believe that this settlement will create the kind of enhanced protection for artists that we've been seeking from Napster. We await Napster's implementation of a new model which will allow artists to choose how their creative efforts are distributed. It's good that they're going legit."

"Even when we were at odds with Metallica, we always understood that they had the best interests of artists in mind," Shawn Fanning, Founder of Napster, pointed out. "Metallica brought to the forefront an important artists' rights issue. They have taken a lot of flak for that but have persevered because of their belief that what they're doing is essential to the preservation of their art. Despite the litigation, Metallica's position has been a reflection of their high ideals and their private dealings with Napster have always been gracious."

Fanning continued, "It's time to end the court fight and shake hands. We look forward to gaining Metallica's support and respect as we work to develop Napster into a tool that can be responsive both to artists' needs to communicate their art and the desires of music lovers throughout the world. We're pleased that this chapter is behind us."

Metallica has agreed to allow the sharing of certain of their material from time to time once an acceptable model is in place that ensures payment to artists and publishers for the use of their works.

About Napster
Napster is the world's leading person-to-person file sharing community and the fastest growing community in the history of the Internet, with nearly 85 million passionate music fans. Napster provides music enthusiasts with an easy-to-use, high quality service for discovering new music and communicating their interests with other members of the Napster community. Napster's software application enables users to locate and share music files through an easy-to-use interface, and features instant messaging, chat rooms, and Hot
List User Bookmarks.

About Metallica
Metallica was formed in 1981 by Lars Ulrich and James Hetfield, and was joined soon thereafter by Kirk Hammett. Rising from the heavy metal underground, Metallica developed an intensely loyal fan base and has gone on to become one of the most successful acts in the world. Sales of Metallica's albums exceed 80 million units worldwide (with over 45 million in North America alone). Their records include Kill 'Em All, Ride the Lightning, Master of Puppets, And Justice for All, Metallica, Load, Reload, Garage, Inc., and S+M. Metallica recently won its sixth Grammy Award, for the S&M version of "The Call of Ktulu," recorded with the San Francisco Symphony Orchestra. In addition, their 1991 album, "Metallica" is one of the few albums to be awarded the prestigious "Diamond Award" from the RIAA, which recognizes U.S. sales in excess of ten million copies. Metallica's first ever foray into filmed music, "I Disappear," propelled the Mission Impossible 2 soundtrack into the best selling soundtrack of 2000. Underscoring Metallica's status as the #1 concert draw of the last decade, their most recent full tour drew over 2.2 million fans worldwide.